Celebrating 20 Years with Dana Benton
By Dana Benton
I was born in Hamilton, Ontario, Canada and started ballet at the age of 3. I began my training at The Dance Centre in Hamilton and ballet quickly became my passion. At the age of 8, my parents took me to see a performance by the National Ballet School in Toronto. Afterwards, the artistic director spoke about the school and what it would entail to become a student there. I was on the edge of my seat and couldn't believe what I was hearing—a place where I could do ballet all the time!? I told my parents that I wanted to go there. They looked into it and realized I was too young. I had to wait till I was 9. This was devastating to my 8-year-old self, but I waited.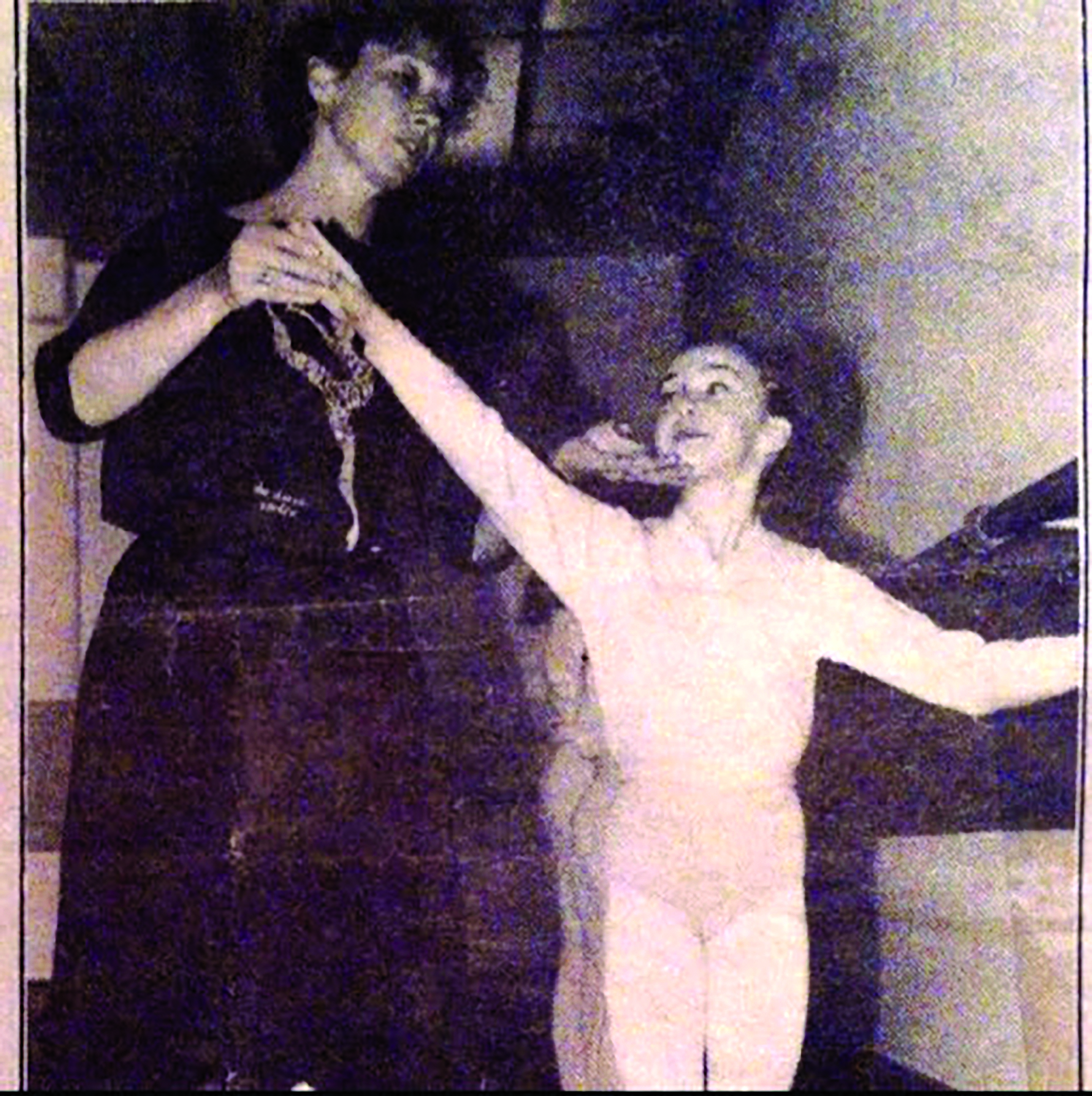 Dana Benton with first ballet teacher Pauline Zamprogna of The Dance Centre, 1991
When I was born, I was diagnosed with pulmonary valve stenosis as well as having a hole in my heart. The hole closed up on its own over time, but I needed surgery to repair my valve. Five days before my audition for the ballet school I had a balloon catheterization to open up my pulmonary valve. The surgery went well, but I ended up with a small tear in the valve. Regardless, I was determined and was given the go ahead for my audition. I finally got to audition and was accepted into their summer school. Near the end of the summer school they asked me if I wanted to stay for the full school year. I was ecstatic and replied with a resounding "YES PLEASE!" So off I went to live in a residence at the age of 9. I was accepted to come back for the next 7 years until high school graduation. I had so many amazing teachers, most of whom I'm still in touch with. They saw my potential when I didn't. They taught me how to persevere and to become my best. Not someone else's best but my own—a lesson that I still think about daily.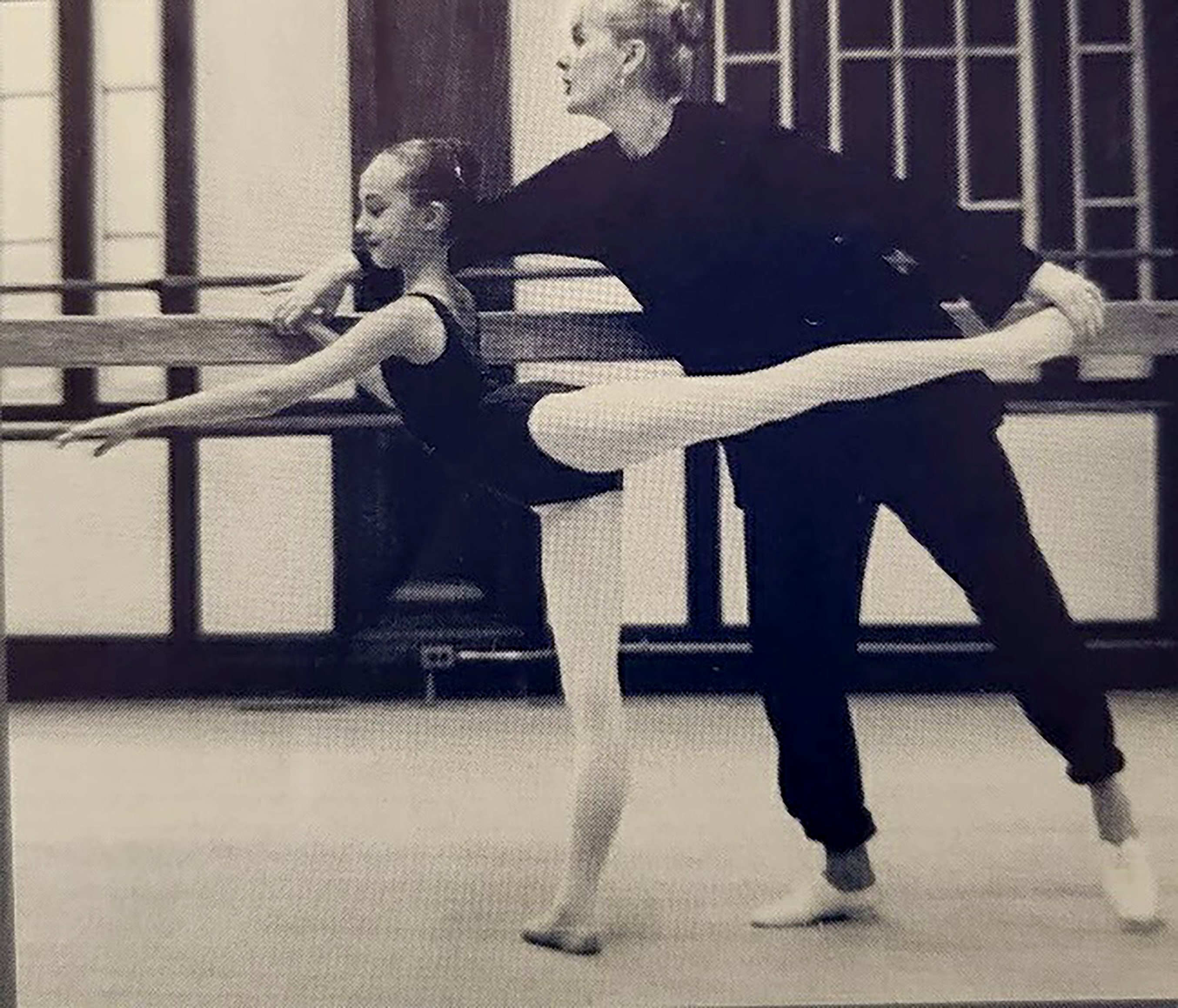 Dana Benton with her teacher Mary Goodhew at the National Ballet School, 1994
Something I struggled with was being comfortable "performing" or acting on stage and in the studio. I always had a serious face and was so focused on my technique that I never felt comfortable being artistic, which in my mind meant letting go of my form. The ballet school I attended chose me to go on an exchange to the Hamburg Ballet School in Hamburg, Germany. This was to help me become comfortable expressing myself while dancing. While I was there, I had the opportunity to watch the Hamburg Ballet perform almost every week. Hamburg Ballet had a more contemporary repertoire than I was used to watching, but I loved it. It helped me to grow and appreciate ballet in a new light. Not just on a technical level, but with movement and artistry as well. This was a turning point for me—I learned that I could still be technical but with a sense of letting go at the same time. It was a journey to get there but I did, and my exchange to Hamburg made all the difference.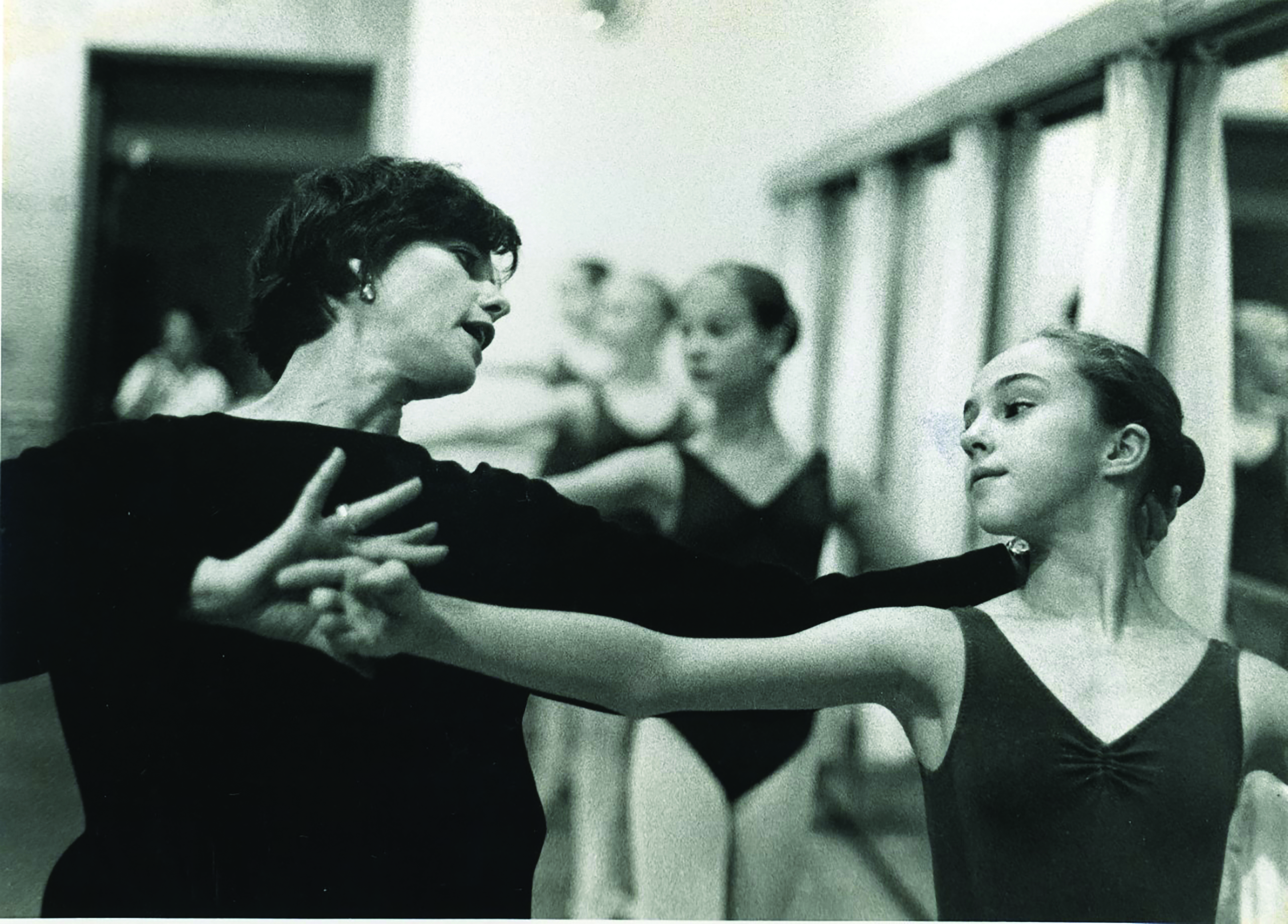 Dana Benton with Debi Hess, her teacher at The National Ballet School, 1995
Upon graduation, it was time to audition for ballet companies. The school warned me that it would be very difficult to get a job because of my height—I am only 5'1". My dream was to dance for The National Ballet of Canada. That was my home company that I grew up watching as well as dancing with in The Nutcracker. Two of my favorite ballerinas were Karen Kain and Martine Lamy, both Principal dancers for The National Ballet of Canada. Martine was built more muscular, which is how I viewed myself. I aspired to be just as technical as her. While Karen was also technical, I admired her artistry. A few years before graduating, The National Ballet of Canada's artistic director changed and they decided to go for a taller look. I was devastated. I had to dance. I had to be a ballerina. I auditioned for The National Ballet of Canada anyway, knowing I wouldn't get an offer, but to gain experience under pressure. I also auditioned for Alberta Ballet and right after the audition I was offered a job. I was going to be an apprentice with Alberta Ballet! I was so excited and proud of myself. I was ready for my new adventure. I spent one season with Alberta Ballet, but was not offered a contract for the following season. I was heartbroken but not ready to give up my dream, so I sent audition tapes everywhere. And then it happened—Colorado Ballet offered me a corps de ballet contract. Martin Freidman was the Artistic Director of Colorado Ballet at the time and he had said to me that my height was not an issue for him. They had a Principal dancer (Sharon Wehner) who was tiny as well. I was so grateful to Sharon for paving the way for shorter dancers here at Colorado Ballet.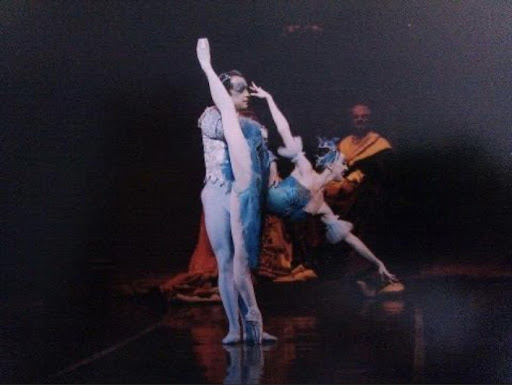 Dana Benton and Adam Still in the Bluebird Pas de Deux in The Sleeping Beauty, 2012
In 2006, Gil Boggs became our Artistic Director and he too didn't have an issue with my height. When a new director takes over, the dancers always feel uncertain about their future in the company. Am I what the new director is looking for in a dancer? Will the future of the company and my career align? But I loved where Gil was taking the company and the opportunities I was being given. A year after Gil became the director, he promoted me to Soloist. I was over the moon! My dream was still alive. In 2008, I was given my first full length ballet (besides The Nutcracker) to try, Coppelia. It was such an honor to perform as Swanhilda opposite Maria Mosina and Sharon Wehner. I loved every second of this ballet. It was technically challenging, but so fun at the same time. I could not wait to take on more challenging ballets and earn more responsibility on stage.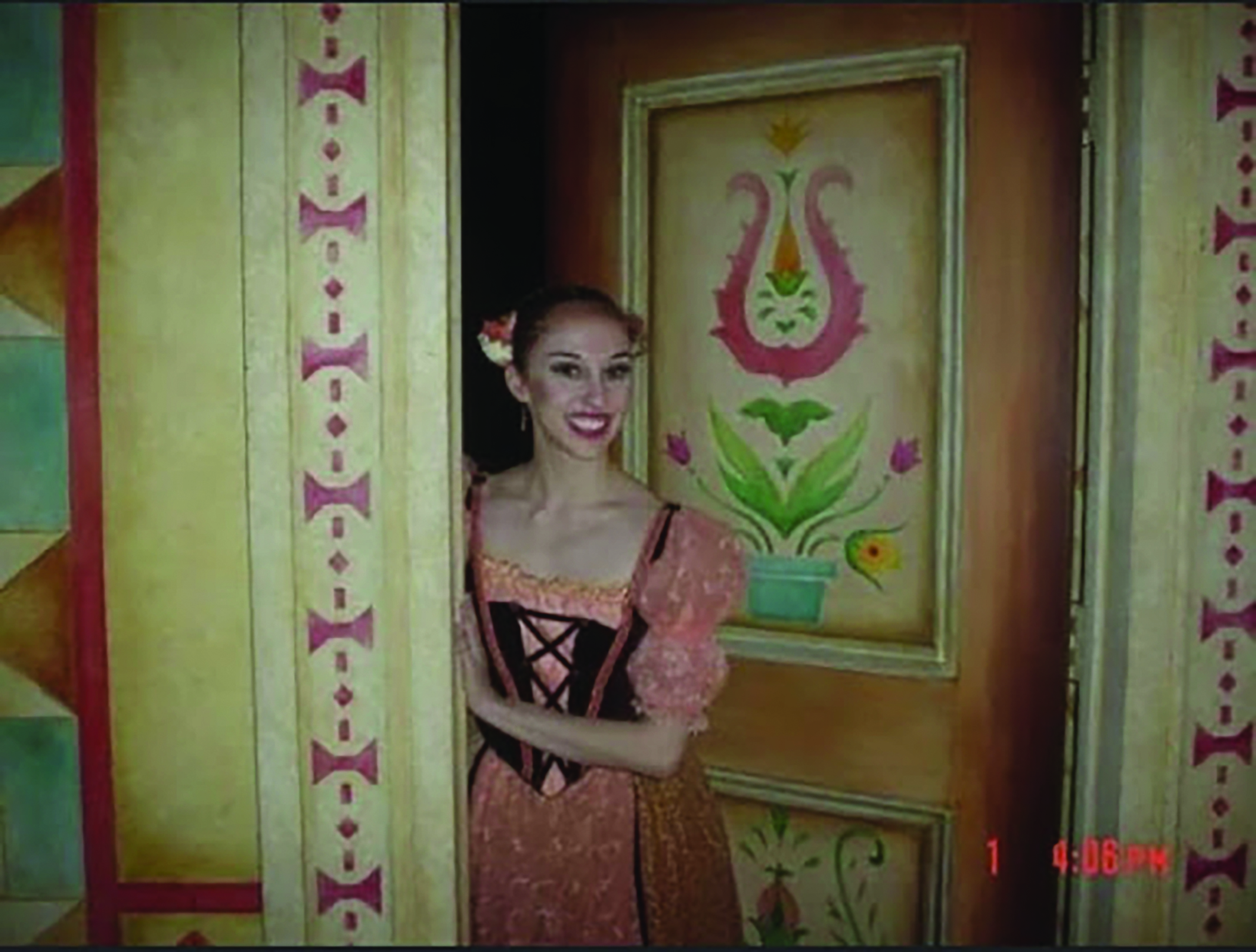 Dana Benton posing before her Coppelia debut with Colorado Ballet, 2008
Over the years, I was lucky enough to work with world-renowned repetiteurs and choreographers. In 2014, after our final season performance of a triple bill in which I had been part of the creation for all three ballets, I was promoted to Principal. My parents were in town for these shows and when the curtain came down, Gil pulled me into the middle of the stage in front of the company and announced my promotion. I couldn't believe it. I think I screamed and then started crying. It's a moment that all dancers dream of—when all the hard work, dedication, stubbornness, ups, downs, blood, sweat and tears pays off. It's surreal.
Celebrating my 20th +1 season is an accomplishment I knew I wanted to achieve. I had always thought to myself, "I want to make it to my 20th season with Colorado Ballet. Anything over that is a bonus." When the pandemic hit, it was the start of my 20th season. I didn't know how long the pandemic would last and doing Zoom rehearsals in our living room was difficult. I had my second baby in May 2020 and wasn't sure if I would be able to come back during a pandemic. I was anxious not knowing if my career was just over or if this pandemic would settle enough so I could celebrate my 20th, and now my 20th +1 season. I'm so grateful to our staff for persevering and getting us back on stage. And for my family for helping me through such a hard return to the stage. It wasn't easy, but I'm so glad we did it.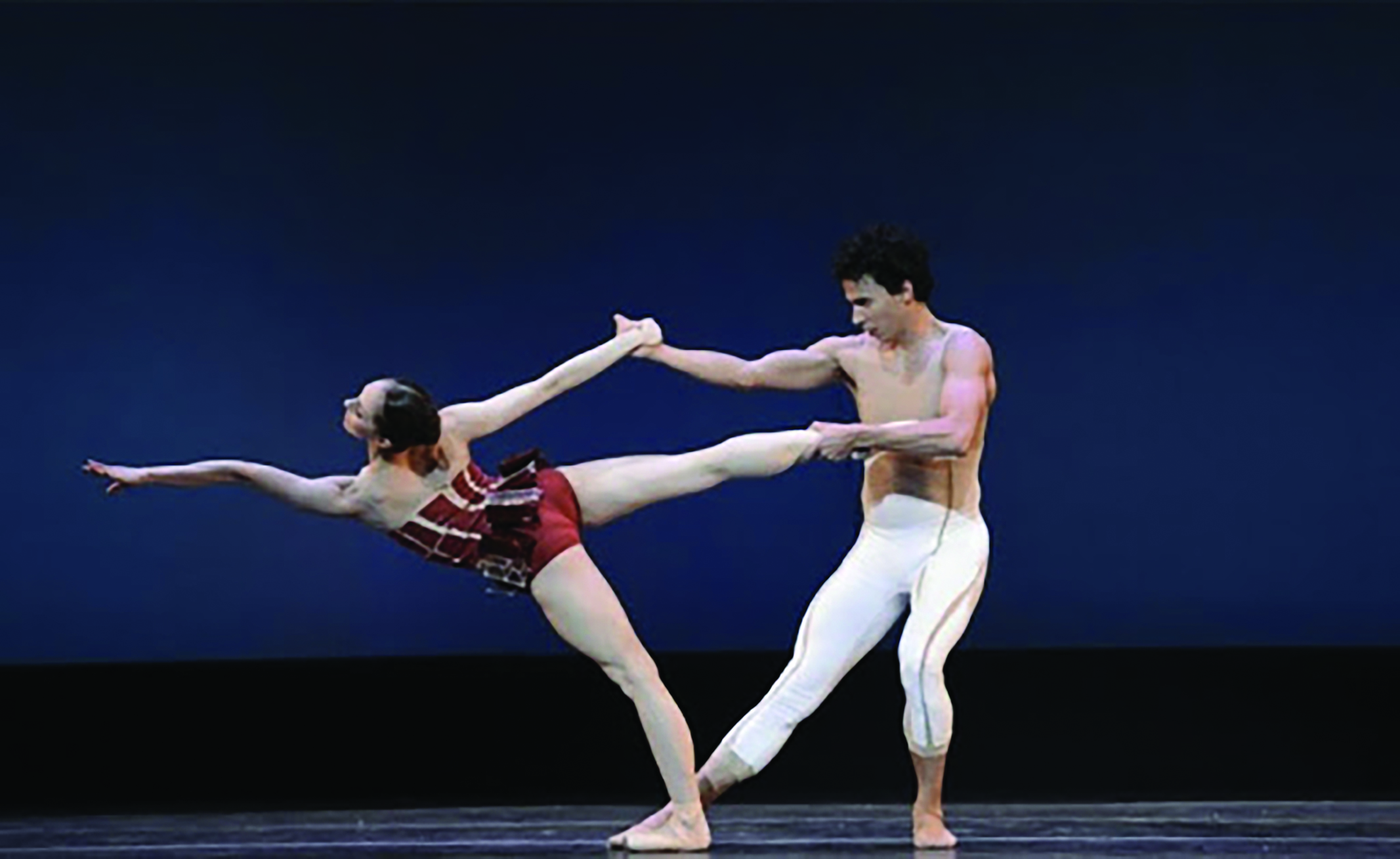 Dana Benton and Luis Valdes in Amy Seiwert's Traveling Alone, 2012
I would not have been able to make it this far without the endless love and support from a ton of people, starting with my parents. They sacrificed everything to make my dream come true. There aren't enough words to express my immense gratitude towards them. I love you Mom and Dad, and thank you for everything! My "little b" for always being there and for being my biggest cheerleader. My husband, Adam, for his constant support and helping me through all the ups and downs. My Canadian family—their continuous support even from afar is always with me. My Aunt and Uncle who, when we couldn't afford all the pointe shoes I was going through at school, took it upon themselves to supply them for me. Their generosity will never be forgotten. My US family—it takes a village and that's why I have families in two countries. I need all the help I can get. My Gramuffer who is looking down and guiding me along the way. Natalie for being my best and longest friend. All of my dance partners. We go on this journey together and the magic shared on stage is something that cannot be explained. My bestie Yosvani Ramos, for always lifting me up on and off the stage. Amy Seiwert for taking a chance on me and giving me one of the best gifts in Traveling Alone. (Mama) Donna, Mieke, Sarah, Stephen, Lisa and Amy, my team of amazing physical therapists. Their dedication to their jobs to make us able to do ours, is outstanding—thank you! My surgeons at Peak Orthopedics and UCHealth Steadman, Vetanze Therapy and Omni Chiropractic for keeping this body together. Stacey for trying to keep me sane. Former and current dancers, you all inspire me and I have learned from each and every one of you. My generous sponsors Jane and Skip Netzorg and the late Montine Hansl. Gil, Sandy, Maria and Lorita, who have taught me everything I know as a professional. Having their support to grow with every opportunity they have given me, means the world. I'm honored to be celebrating my 20th +1 under their leadership. My friends—everyone needs people who have their back and I appreciate all of you. Last, but definitely not least, Poppy and Felix. They give me life and watching them learn the way of the world inspires and motivates me. I love them to the moon and back. Thank you and I love you all.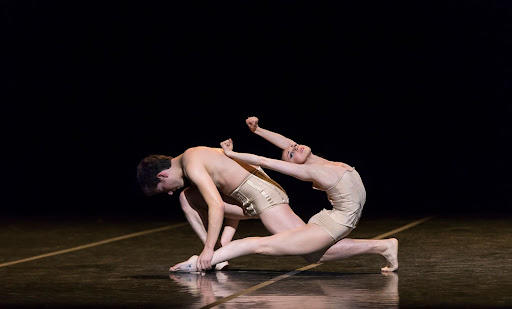 Dana Benton and Francisco Estevez in Petite Mort, 2017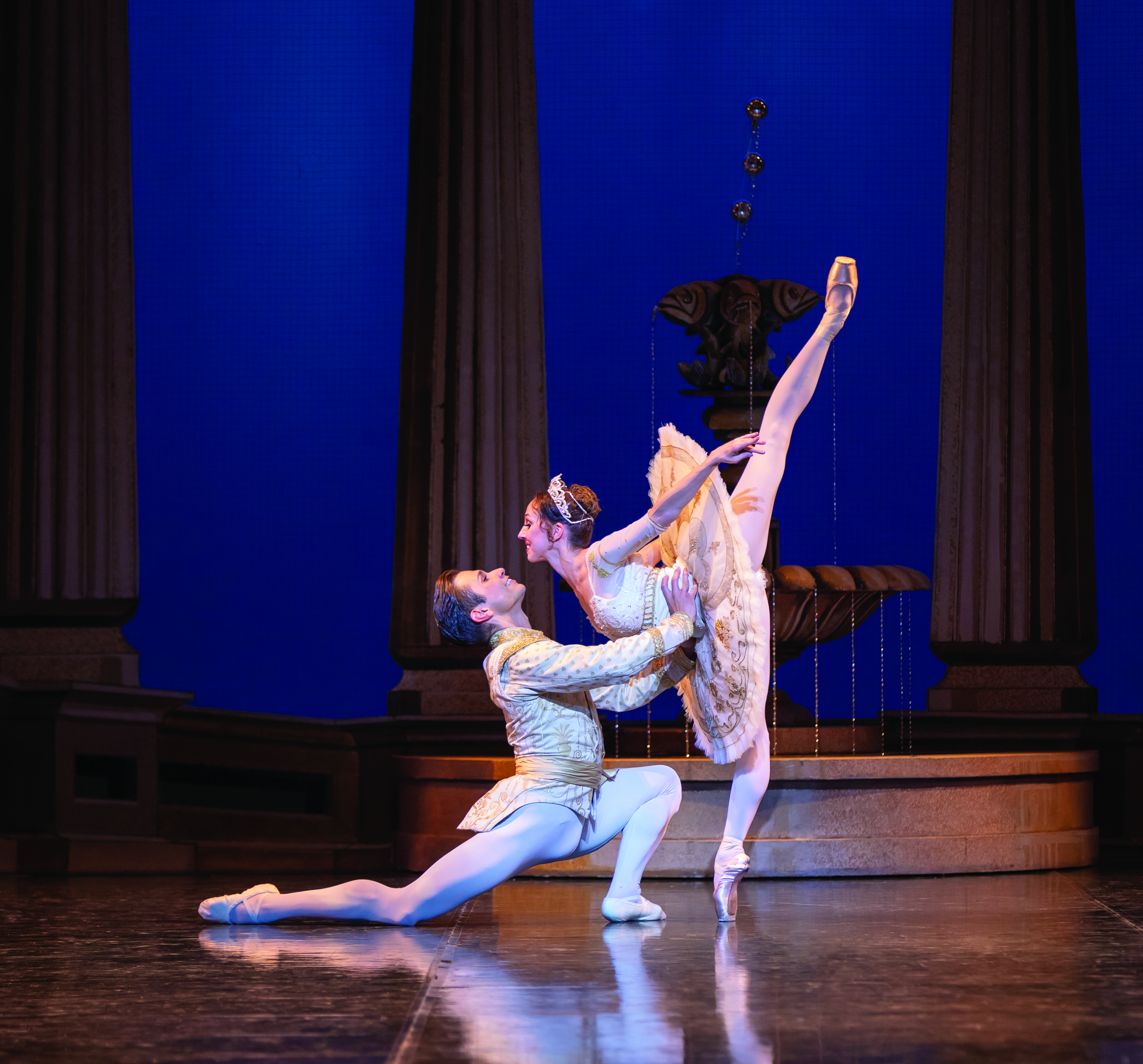 Dana Benton and Yosvani Ramos in The Sleeping Beauty, 2018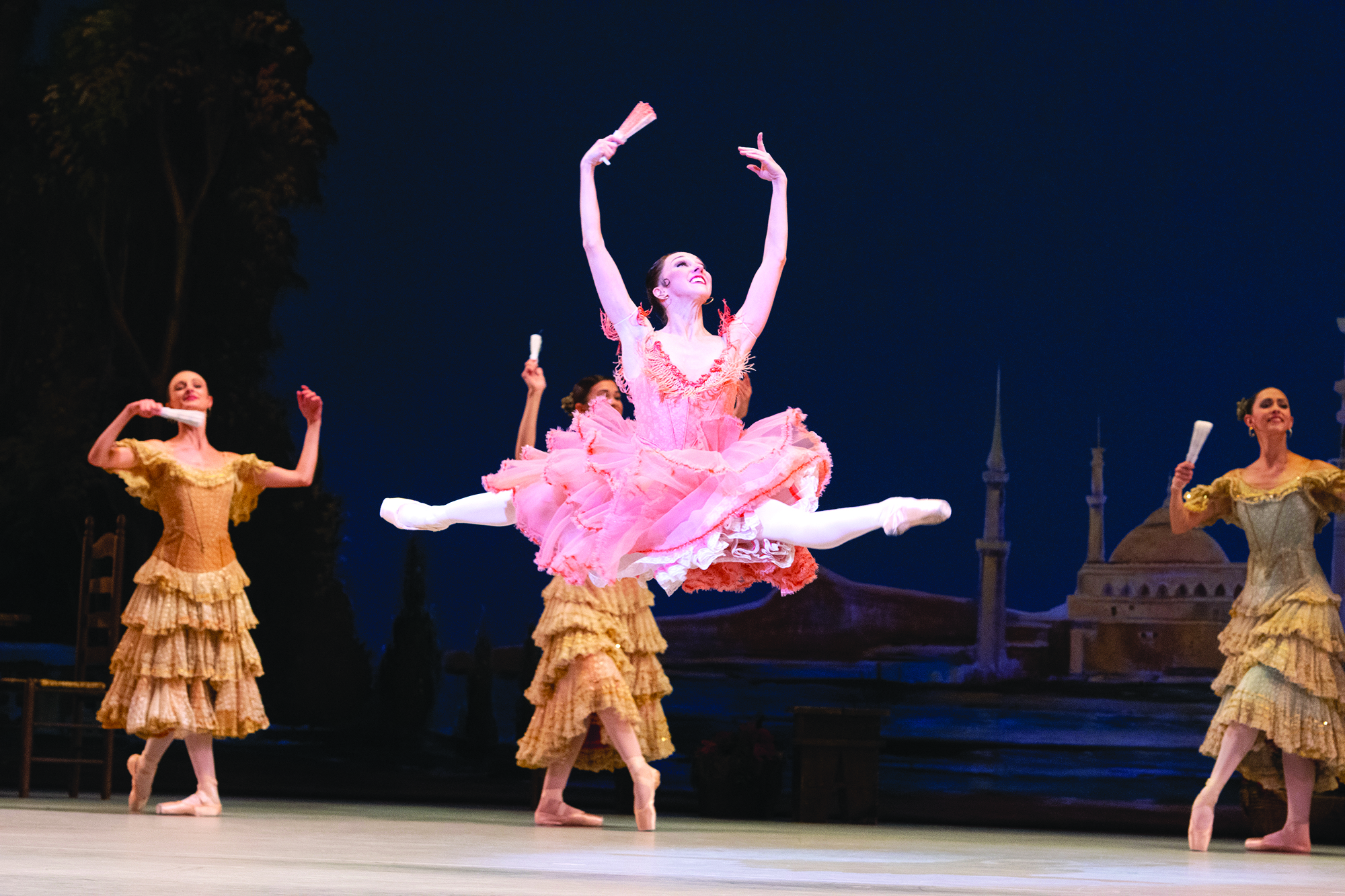 Dana Benton as Kitri and Artists of Colorado Ballet in Don Quixote, 2018
Dana Benton and Viachslav Buchkovskiy as Clara and the Prince in The Nutcracker, 2015