Colorado Ballet Closes 2022/2023 Season with Ballet MasterWorks April 14-23, 2023 at the Ellie Caulkins Opera House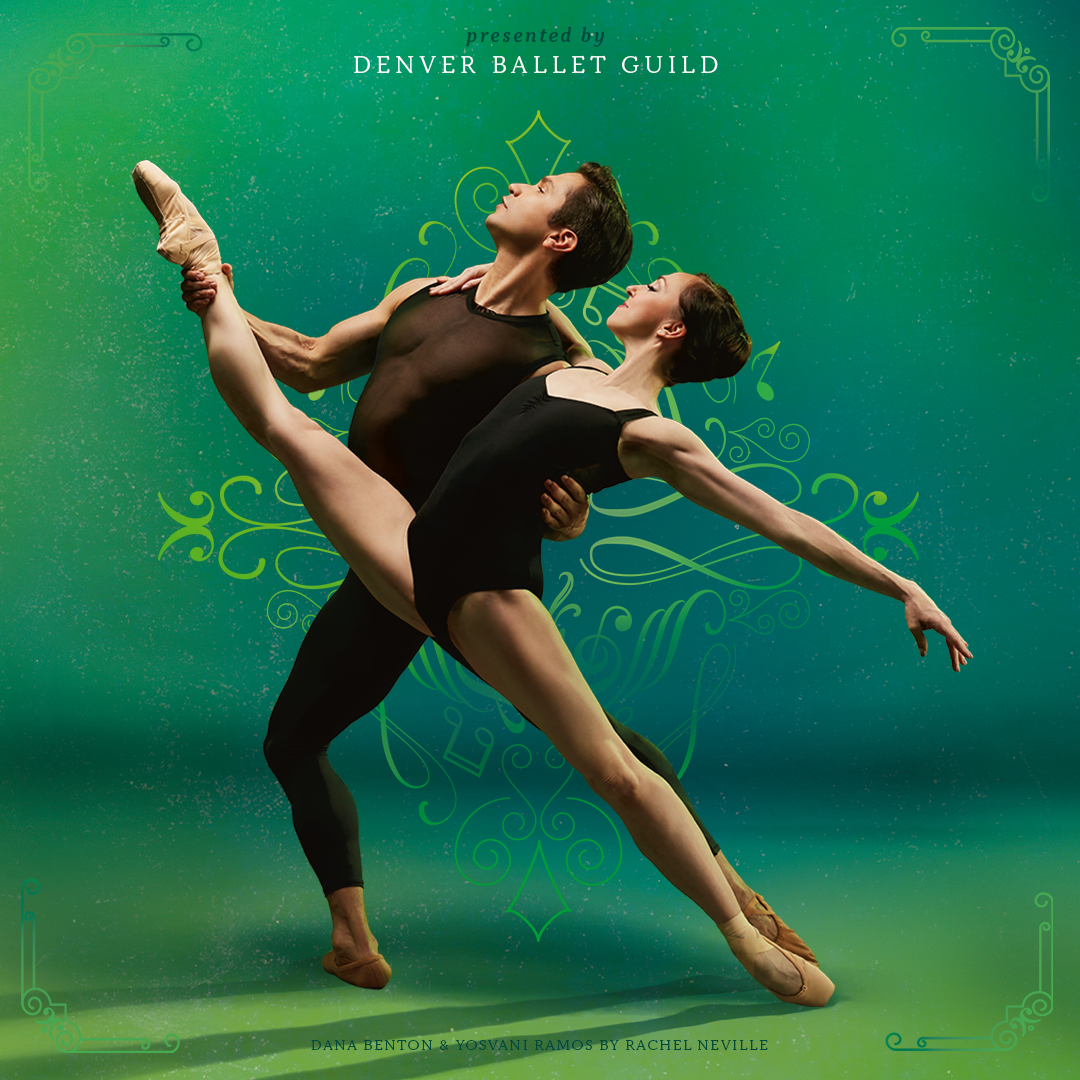 DENVER, CO (March 23, 2023) – Colorado Ballet's 2022/2023 Season will close with seven performances of Ballet MasterWorks at the Ellie Caulkins Opera House, April 14–23, 2023.
This season, MasterWorks includes a trio of acclaimed masterpieces from 20th century ballet repertoire performed to live music by the Colorado Ballet Orchestra, led by Music Director and Principal Conductor Adam Flatt—Clark Tippet's Bruch Violin Concerto, George Balanchine's Prodigal Son and Jiří Kylián's Sinfonietta.
"Each year, Colorado Ballet looks forward to presenting another beautiful series of acclaimed MasterWorks to the community," stated Artistic Director Gil Boggs. "This season's repertoire is no exception. It brings together works from some of the greatest choreographic and musical minds for an experience that truly feels like art in action."
Set to the music of Max Bruch, Clark Tippet's Bruch Violin Concerto opens the performance in April and features guest artist Benjamin Baker, violin soloist. Choreographed in 1987, Tippet's dynamic ballet showcases the elegant artistry and classical excellence synonymous with this art form.
Following Tippet's work is George Balanchine's Prodigal Son. Balanchine's 1929 masterpiece uses dramatic, challenging choreography and Sergei Prokofiev's expressive score to bring the famous story of sin and redemption to life. To add to the excitement, retiring Colorado Ballet Principal Dancer Yosvani Ramos will debut in the titular role and celebrate his farewell performance during the final MasterWorks matinee on April 23, 2023 at 2 p.m.
Jiří Kylián's Sinfonietta, set to Leoš Janáček's composition of the same name, closes this year's MasterWorks program. From the incredible mind behind Petite Mort comes Sinfonietta, Kylián's self-professed "most spontaneous work" that had audience members "standing on top of their chairs, cheering and throwing their program books into the air" at its 1978 premiere. Performed by Colorado Ballet for the very first time, this premiere of Sinfonietta was rescheduled for this April from the canceled MasterWorks production in 2020. Colorado Ballet received special permission from the Kylián Foundation to present Sinfonietta this season.
"I am delighted to share these three monumental works with Colorado next month," continued Boggs. "I mean, where else can you see Janáček's energetic horn fanfare performed live from the audience? If you love dance, you'll love Ballet MasterWorks. If you love music, you'll love Ballet MasterWorks. At its core, this program is a celebration of both art forms. It's for everyone, and I guarantee that it will leave all who attend feeling inspired."
Tickets for Ballet MasterWorks are on sale now. Colorado Ballet has seen record-breaking attendance and ticket sales this season, so purchasing early for the best availability is strongly recommended.
Ballet MasterWorks is presented by Denver Ballet Guild. Colorado Ballet receives support from the Scientific and Cultural Facilities District.
PERFORMANCE DATES AND TIMES
Friday, April 14, 2023 at 7:30 p.m.
Saturday, April 15, 2023 at 2 p.m.
Saturday, April 15, 2023 at 7:30 p.m.
Sunday, April 16, 2023 at 2 p.m.
Friday, April 21, 2023 at 7:30 p.m.
Saturday, April 22, 2023 at 7:30 p.m.
Sunday, April 23, 2023 at 2 p.m.
TICKETS
Tickets range from $40 to $160. Visit COLORADOBALLET.ORG or call Patron Services at 303-837-8888 ext. 2 to purchase tickets.
To continue to reduce the number of ticket resellers, please purchase directly through Colorado Ballet via the website or phone number listed above. Tickets purchased through resellers may not be valid.
EVENT LISTING FOR BALLET MASTERWORKS
Colorado Ballet presents Ballet MasterWorks
April 14–23, 2023 | Ellie Caulkins Opera House
Tickets start at $40 at COLORADOBALLET.ORG
To close the season, a grand finale that lives up to its name. Accompanied by a live performance from the Colorado Ballet Orchestra, this monumental compilation showcases our art form in top form. Featured works will include George Balanchine's Prodigal Son, Jiří Kylián's Sinfonietta choreographed to the stunning score of Leoš Janácek, and Bruch Violin Concerto choreographed by Clark Tippet to music by Max Bruch. This dynamic, one-of-a-kind presentation is our love letter to ballet that will leave you longing for next fall.
UPCOMING 2023/2024 SEASON PRODUCTIONS
Swan Lake | Oct. 6–15, 2023
The Nutcracker | Nov. 25–Dec. 24, 2023
Jekyll & Hyde | Feb. 2–11, 2024
Coppélia | March 8–17, 2024
MasterWorks | April 12–21, 2024
View additional information and purchase season ticket subscriptions online.
ABOUT COLORADO BALLET
Presenting exceptional classical ballet and innovative contemporary dance through performances, training, education and community engagement, Colorado Ballet continues to inspire and grow an increasingly diverse audience base in Denver, Colorado. Established in 1961 by Lillian Covillo and Freidann Parker, Colorado Ballet is a non-profit organization celebrating 62 years of excellence. As a world-class professional company serving over 100,000 national and international patrons, Colorado Ballet presents 58 performances annually to sold-out audiences in the 2,000 seat Ellie Caulkins Opera House. The Company's 35 professional dancers and 26 studio company dancers come from all over the world. Colorado Ballet's The Armstrong Center for Dance, a 35,000 square foot building, boasts eight state-of-the-art professional dance studios and amenities for the professional Company. Under the direction of Artistic Director Gil Boggs, Colorado Ballet performs classical ballet masterpieces, full-length story ballets and its critically acclaimed repertory production Ballet MasterWorks, featuring varied works from neoclassical ballets to world premieres. The Raydean Acevedo Colorado Ballet Academy serves over 1,200 students from toddlers to seniors each year. Colorado Ballet's Education & Community Engagement offers programs to students and community members, making over 25,000 contacts and reaching over 200 schools and organizations annually. Participants come from a variety of backgrounds and socioeconomic statuses including youth, families, teachers, and people with and without disabilities. For more information, please visit coloradoballet.org.