Colorado Ballet Presents Ben Stevenson's Cinderella March 10-19, 2023 at the Ellie Caulkins Opera House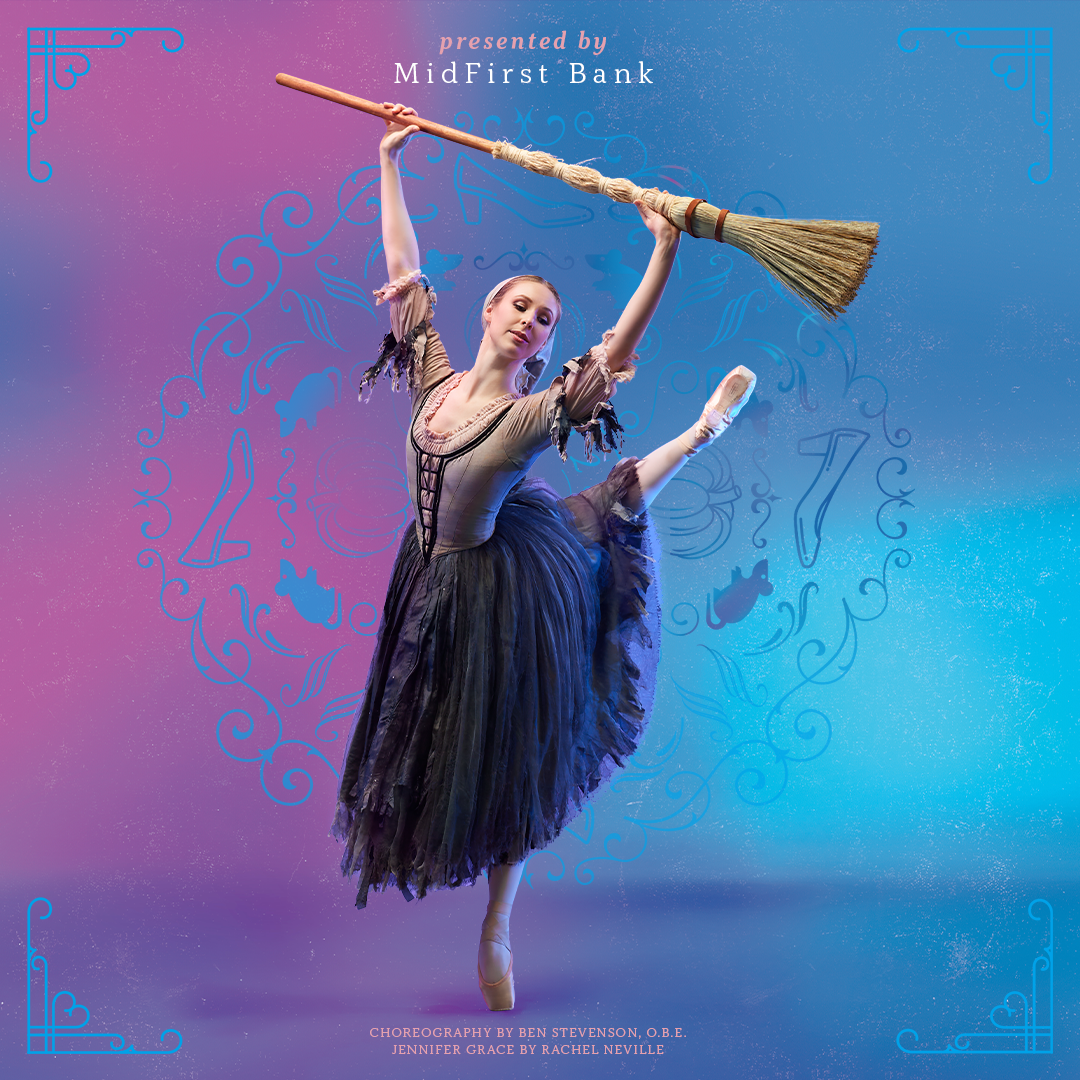 DENVER, CO (February 21, 2023) – For the first time since 2014, Colorado Ballet will present the classic fairy tale ballet Cinderella. The rags-to-riches story comes to life during eight performances at the Ellie Caulkins Opera House, March 10–19, 2023, and features choreography by Ben Stevenson, O.B.E. To add to the magic, Sergei Prokofiev's score will be performed live by the Colorado Ballet Orchestra.
"This ballet is perfect for both the young and the young-at-heart," stated Artistic Director Gil Boggs. "Stevenson's choreography seamlessly combines whimsical humor with classical sensibility and elegance. When paired with Prokofiev's spellbinding score and spectacular sets and costumes, this ballet truly feels like something out of a fairy tale."
Like the classic story, Ben Stevenson's Cinderella follows the journey of a young woman who dreams of a better life. With a little help from a magical fairy godmother, her wish is destined to become reality—if the shoe fits. Rooted in romance and decorum, Cinderella is a tale of courage, hope and heart that is suitable for audiences of all ages.
"Sometimes, dreams do come true," continued Boggs. "Bringing Cinderella back to Denver this season is one of those times. If you love The Nutcracker, I guarantee you'll love this ballet as well. I encourage patrons to purchase their tickets early before the clock strikes midnight on the opportunity to experience this beautiful production."
Tickets for all eight performances of Cinderella are on sale now. Colorado Ballet's production of Cinderella is presented by MidFirst Bank. Colorado Ballet also receives support from the Scientific and Cultural Facilities District (SCFD).


PERFORMANCE DATES AND TIMES
Friday, March 10, 2023 at 7:30 p.m.
Saturday, March 11, 2023 at 2 p.m.
Saturday, March 11, 2023 at 7:30 p.m.
Sunday, March 12, 2023 at 2 p.m.
Friday, March 17, 2023 at 7:30 p.m.
Saturday, March 18, 2023 at 2 p.m.
Saturday, March 18, 2023 at 7:30 p.m.
Sunday, March 19, 2023 at 2 p.m.
TICKETS
Tickets range from $40 to $160. Visit COLORADOBALLET.ORG or call Patron Services at 303-837-8888 ext. 2 to purchase tickets. To continue to reduce the number of ticket resellers, please purchase directly through Colorado Ballet via the website or phone number listed above. Tickets purchased through resellers may not be valid.
EVENT LISTING FOR Cinderella
Colorado Ballet presents Cinderella
March 10–19, 2023 | Ellie Caulkins Opera House
Tickets start at $40 at COLORADOBALLET.ORG
The beloved rags-to-riches tale makes its grand return to delight children—and the young at heart—of all ages. Featuring spellbinding choreography by Ben Stevenson set to Prokofiev's iconic score, the namesake character will treat Ellie Caulkins audiences to a transformation marked by romance and magic. If the shoe fits…

UPCOMING PRODUCTIONS
Ballet MasterWorks | April 14–23, 2023
Featuring George Balanchine's Prodigal Son, Jiří Kylián's Sinfonietta, and Clark Tippet's Bruch Violin Concerto No. 1.
Ellie Caulkins Opera House
ABOUT COLORADO BALLET
Presenting exceptional classical ballet and innovative contemporary dance through performances, training, education and community engagement, Colorado Ballet continues to inspire and grow an increasingly diverse audience base in Denver, Colorado. Established in 1961 by Lillian Covillo and Freidann Parker, Colorado Ballet is a non-profit organization celebrating 62 years of excellence. As a world-class professional company serving over 100,000 national and international patrons, Colorado Ballet presents 55 performances annually to sold-out audiences in the 2,000 seat Ellie Caulkins Opera House. The Company's 35 professional dancers and 25 studio company dancers come from all over the world. Colorado Ballet's The Armstrong Center for Dance, a 35,000 square foot building, boasts eight state-of-the-art professional dance studios and amenities for the professional Company. Under the direction of Artistic Director Gil Boggs, Colorado Ballet performs classical ballet masterpieces, full-length story ballets and its critically acclaimed repertory production Ballet MasterWorks, featuring varied works from neoclassical ballets to world premieres. The Raydean Acevedo Colorado Ballet Academy serves over 1,200 students from toddlers to seniors each year. Colorado Ballet's Education & Community Engagement offers programs to students and community members, making over 25,000 contacts and reaching over 200 schools and organizations annually. Participants come from a variety of backgrounds and socioeconomic statuses including youth, families, teachers, and people with and without disabilities. For more information, please visit coloradoballet.org.