Colorado Ballet Will Present Performance of The Nutcracker with Sensory Friendly Adaptations Presented by PNC Bank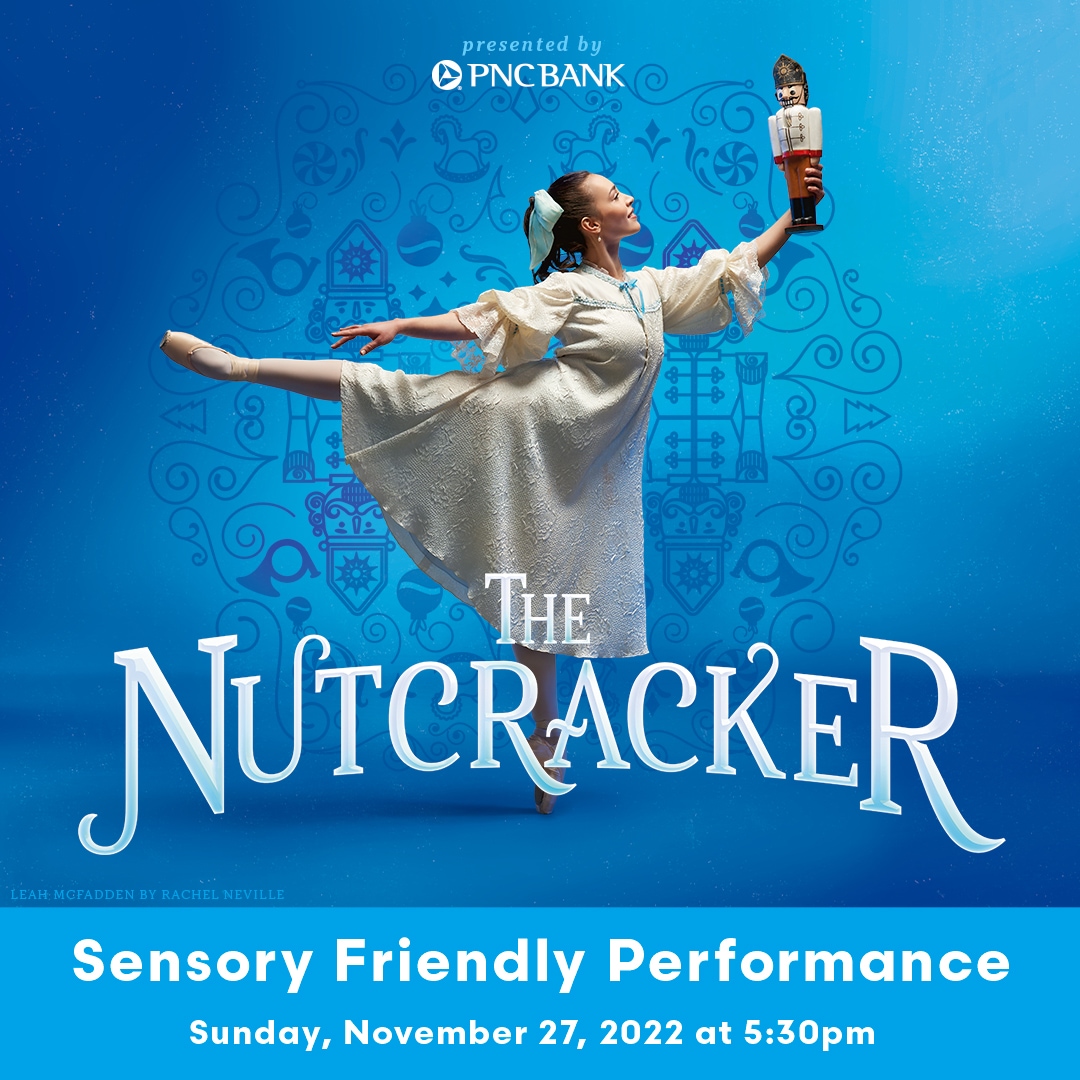 DENVER (Nov. 7, 2022) – This holiday season, Colorado Ballet will present a performance of The Nutcracker for people with an intellectual or developmental disability, autism spectrum disorder and other sensory sensitivities at 5:30 p.m., Sunday, Nov. 27. The performance will include sensory friendly adaptations, a relaxed environment for patrons, and live music performed by the Colorado Ballet Orchestra.
"Colorado Ballet is proud to offer a sensory friendly performance of The Nutcracker this season," stated Artistic Director Gil Boggs. "We feel it is important to share this beloved holiday classic with even more of our community and to help create a safe, supportive space where everyone can comfortably experience this incredible art form."
"As always, we're committed to making this performance of The Nutcracker a welcoming, inclusive, and memorable experience for all of our patrons," continued Boggs. "Colorado Ballet staff, dancers, ushers, and volunteers receive specific training from our partner organizations to provide the best adapted experience possible and to learn more about how we can support our audience at this performance. I am also very proud of our dancers for their inclusive approach to sharing their art. They make artistic choices to bring a vibrant and accessible performance to the stage and to the audience."
Sensory friendly adaptations will include keeping the house lights on at 30%, eliminating or reducing potentially startling special effects, lighting, and sounds, and relaxing traditional house rules, such as allowing patrons to move freely within the theater during the performance and to exit and reenter as needed. Earmuffs and manipulatives will be provided, but patrons are encouraged to bring tools for their comfort. For more information about this performance's sensory friendly adaptations, please visit COLORADOBALLET.ORG.
Colorado Ballet will offer accessible pricing for this performance of The Nutcracker, with tickets starting at $20. All seating is general admission by section, and tickets may be purchased at the door.
PERFORMANCE DATE & TIME
Sunday, Nov. 27 at 5:30pm
TICKETS
Tickets range from $20 to $40. This performance is not eligible for subscriber, Academy, military, student, or promotional discounts. Visit COLORADOBALLET.ORG or call Patron Services at 303-837-8888 ext. 2 to purchase tickets.
To continue to reduce the number of ticket resellers, please purchase directly through Colorado Ballet via the website or phone number listed above. Tickets purchased through resellers may not be valid.
SPONSORS

Colorado Ballet's The Nutcracker is presented by PNC Bank. Colorado Ballet receives support from the Scientific and Cultural Facilities District (SCFD). Colorado Ballet's sensory friendly performance of The Nutcracker on Sunday, Nov. 27 is supported in part by the Creative Ideas Fund as a creative project that will help decrease isolation, loneliness and disengagement from services for people with intellectual and developmental disabilities (I/DD).
EVENT LISTING FOR COLORADO BALLET'S SENSORY FRIENDLY PERFORMANCE OF THE NUTCRACKER

Colorado Ballet Presents The Nutcracker with Sensory Friendly Adaptations
Sunday, Nov. 27 at 5:30pm | Ellie Caulkins Opera House
Tickets start at $20 at COLORADOBALLET.ORG
Colorado Ballet is proud to offer a performance of The Nutcracker for people with an intellectual or developmental disability, ASD, and other sensory sensitivities on Sunday, Nov. 27 at 5:30pm! This production will have sensory-friendly adaptations and will also provide a relaxed environment for all patrons in attendance.
MORE UPCOMING PRODUCTIONS

Lady of the Camellias | Feb. 3–12, 2023
Ellie Caulkins Opera House
Cinderella | March 10–19, 2023
Ellie Caulkins Opera House
Ballet MasterWorks | April 14–23, 2023
Featuring Prodigal Son, Sinfonietta and Bruch Violin Concerto, No. 1
Ellie Caulkins Opera House
ABOUT PNC BANK

PNC Bank, National Association, is a member of The PNC Financial Services Group, Inc. (NYSE: PNC). PNC is one of the largest diversified financial services institutions in the United States, organized around its customers and communities for strong relationships and local delivery of retail and business banking including a full range of lending products; specialized services for corporations and government entities, including corporate banking, real estate finance and asset-based lending; wealth management and asset management. For information about PNC, visit www.pnc.com.
ABOUT COLORADO BALLET

Presenting exceptional classical ballet and innovative contemporary dance through performances, training, education and community engagement, Colorado Ballet continues to inspire and grow an increasingly diverse audience base in Denver, Colorado. Established in 1961 by Lillian Covillo and Freidann Parker, Colorado Ballet is a non-profit organization celebrating 62 years of excellence. As a world-class professional company serving over 100,000 national and international patrons, Colorado Ballet presents 58 performances annually to sold-out audiences in the 2,000 seat Ellie Caulkins Opera House. The Company's 35 professional dancers and 26 studio company dancers come from all over the world. Colorado Ballet's The Armstrong Center for Dance, a 35,000 square foot building, boasts eight state-of-the-art professional dance studios and amenities for the professional Company. Under the direction of Artistic Director Gil Boggs, Colorado Ballet performs classical ballet masterpieces, full-length story ballets and its critically acclaimed repertory production Ballet MasterWorks, featuring varied works from neoclassical ballets to world premieres. The Raydean Acevedo Colorado Ballet Academy serves over 1,200 students from toddlers to seniors each year. Colorado Ballet's Education & Community Engagement offers programs to students and community members, making over 25,000 contacts and reaching over 200 schools and organizations annually. Participants come from a variety of backgrounds and socioeconomic statuses including youth, families, teachers, and people with and without disabilities. For more information, please visit coloradoballet.org.